About Germaine De Peralta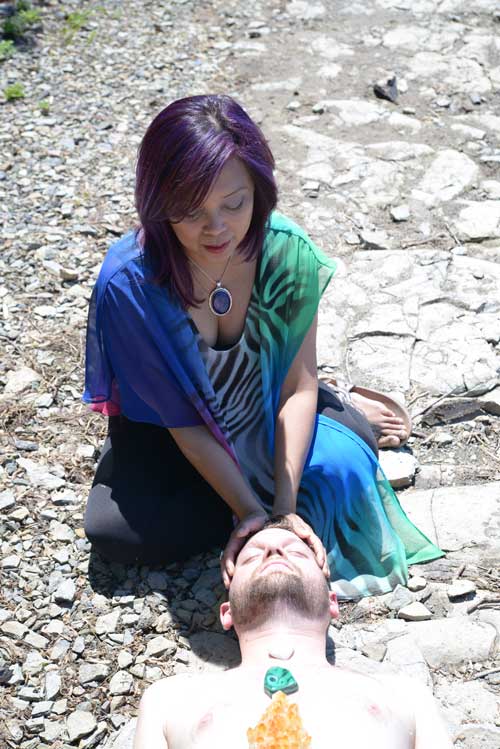 Germaine is an Usui/Holy Fire® III Reiki Master Teacher and a Holy Fire® III Karuna Reiki® Master Teacher based in Ottawa.
She offers Reiki Certification Classes and training for all levels of Usui Holy Fire® III Reiki and Holy Fire® III Karuna Reiki®.
She also offers healing sessions, where she combines Reiki with crystal healing and sometimes other healing modalities, depending on the client's needs.
Germaine specializes in Holy Fire® Reiki, a cutting-edge, powerful and highly spiritual form of Reiki, which she learned under Reiki Master William Lee Rand, president of the International Center for Reiki Training (ICRT) in the United States. She continues to train with the ICRT regularly to improve her knowledge, understanding and skills in Holy Fire® Reiki. (link to my page on "What is Holy Fire Reiki?)
Previous to this, Germaine practiced and taught Reiki extensively as an Usui Holographic Reiki Master and an Usui-Tibetan Reiki Master. Her primary teacher was Ottawa-based Usui Holographic Reiki Master Julie Desmarais. Germaine also learned Usui-Tibetan Reiki from Reiki Master Maria Trumbach.
Germaine is also skilled in Relational Clearing, an energy healing method that helps heal relationships.
Although Germaine has delved into other healing modalities such as shamanism, she has chosen to focus her healing and teaching expertise in Reiki. She makes it a priority to keep up-to-date with the latest developments in the field of Reiki, in order to offer the best services to her students and clients.
Germaine loves to travel and grew up in seven countries giving her a broad perspective on life, cultures, people, and a variety of situations and circumstances. She loves people, having met many from all walks of life. This has contributed significantly to her open, compassionate and insightful approach to healing and teaching, as well as her ability to connect well with her clients and students, regardless of their background and circumstances.
Coming Full Circle
Germaine's spiritual and healing journey began at age 21, when, in an intense spiritual experience, she first experienced the Universe's unconditional love, peace and joy. Shortly after this powerful event, she met her first spiritual teacher who guided and inspired her development for the next two decades. Germaine also began a daily practice of meditation at age 25 which she continues to this day. During this period of her life, Germaine also worked as a journalist in Asian countries undergoing major transitions for 18 years. She relocated to Ottawa as she wound down her journalism career and transitioned to the next phase of her life. In Ottawa, she re-encountered that same strong and unconditional loving energy, which she had encountered at age 21. However, this time she found it through Reiki – which transformed her life significantly for the better. She has since devoted herself to offering this energy of unconditional love, balance, peace and joy to others through her Reiki healing sessions and Reiki classes.
Germaine holds degrees in psychology, journalism and education.